Christian...
I first saw Christian Bale in A Midsummer Night's Dream(movie version)... He played Demetrius in it... And I got only one word to describe him: Gorgeous... Haha... Really... He looked handsome in the movie and towards the end of the movie, there is a scene where he was without clothes... And that made me drool... Really... If you really get to see the show on TV, you will get what I mean... (Why is he without clothes?? Those who know the Shakespeare's story will know why... And those who dunno, please go borrow or rent the movie to watch, or read the play...) ;oP
In the film American Psycho, he plays Patrick Bateman... I like the executive look he has in the show...(I also liked the fact that he was a psychopath... Am I sadist or what??) The show is a bit gory, but overall, it was not bad... He acted finely and looked great... Haha... ;oP
In Reign of Fire, I almost didn't recognize him because of the beard... Haha... It was a nice show about the battle of humans and dragons, with some humans hunting dragons with GPS... ;oP
In Equilibrium, he was John Preston, a top-ranking Grammaton Cleric (government agent) in a world where books, art and music are strictly forbidden and feelings and emotions are crimes punishable by death... But when he misses a dose of Prozium, a mind-altering drug that hinders emotion, Preston, who has been trained to enforce the strict laws, suddenly becomes the only person capable of overthrowing it... Christain dresses a bit like Neo in the Matrix Trilogy, but I liked the fight sequence... And he sure looks cool in the show... Heehee... ;o)
Christain's new movie, Batman Begins is coming to Singapore in June... I am not going to miss it... Heehee... ;o)
Photos of Christain Bale (taken from
http://www.christianbale.net/
)...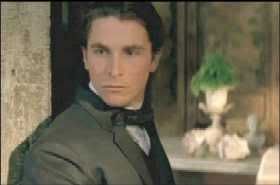 Christian in A Midsummer Night's Dream...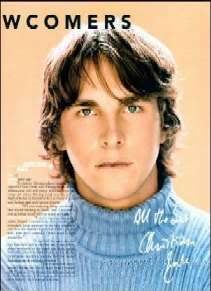 A younger Christian...



Christian in American Psycho...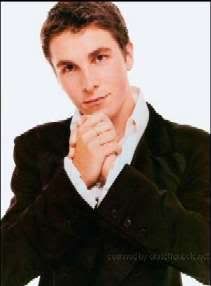 Another photo of a younger Christian...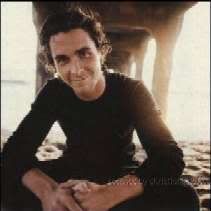 Photo from magazine...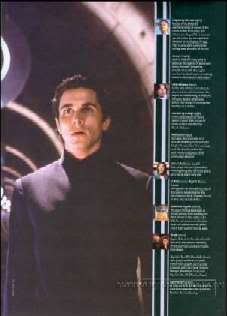 Christian in Equilibrium (photo from magazine)...

Christain Bale's birth name is Christian Charles Philip Bale... He is born on 30 January 1974... He is 1.88m (6' 2") tall... He is an excellent horseman... He has three older sisters: Erin Bale, a musician; Sharon Bale, a computer professional; and Louise Bale, a director/actress... He met his wife through Winona Ryder; she was Ryder's personal assistant... He's married to Sibi Blazic from 29 January 2000 till now... ;o)

He was a talented child actor and wowed critics with his devastating performance in Steven Spielberg's WWII epic Empire of the Sun(1987)... He auditioned with 4000 other kids for the coveted role of James Graham in Spielberg's Empire of the Sun... He received a special citation for Best Performance by a Juvenile Actor from the National Board of Review -- an award specially created for his performance in Empire... He replaced Leonardo DiCaprio as Patrick Bateman for the film American Psycho(2000)... He dropped an amazing 63 pounds for his role as the emaciated insomniac Trevor Reznik in the film The Machinist(2004) with only a single vitamin consultation with a nutritionist to guide him. For the most part he only ate salads and apples, chewed gum, smoked cigarettes and drank nonfat latte... With Batman Begins(2005), he will become the seventh actor to play Batman and the only one since Adam West to stand the same height as Batman, who is 6-feet-2-inches tall according to the comic books... ;o)